Quiz Night Hosts
Along with the questions, the host is a crucial aspect of a successful trivia night. TNQ doesn't provide hosts directly, just trivia questions packages. You will therefore need your own host or an external host.
Have your own host?
Purchasing one of our trivia packages and using your own host is the most cost effective option. The main skill a host needs is confidence in public speaking. Our trivia packages include everything the host needs on the trivia side of things so no previous trivia hosting experience is necessary. The packages include tips and guidelines on running the quiz such as how to mark answers efficiently, keeping the night moving, a sample agenda etc.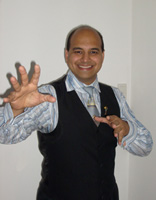 Legends Host – Melbourne & Australia
LEGENDS TRIVIA HOST LOCATIONS
"I'm pleased to say that our trivia night was a total success. "The best Hassell party in years!" Chrissy was a star and did a perfect job, we'd gladly get her back anytime. Please thank her for me. Thankyou for recommending her and thankyou for all your help."
- Hassell (Sydney)
"Kevin, I just wanted to thank you for your hosting efforts at the Safeway Trivia Night. It was a fantastic evening and you were quite simply a brilliant host. Many people have commented how much they enjoyed the event and many have particularly mentioned how great you were!! Not only was it a fun and entertaining night, we raised a great deal of money for a very worthy cause.Thanks again and we will definitely recommend your services in the future"
- Woolworths, Melbourne
Some Feedback for Legends Trivia Hosted Quizzes
"Just a quick note to say how impressed we were with Chrissy last night - she was fantastic and very popular with our crowd! We never expected to get such a fantastic reception from our guests and will no doubt look towards running a trivia night once again."
- Bartier Perry Sydney
"The night was a huge success. About $4,500 profit was reached. Andy was fantastic, I can't thank you and your staff enough. We look forward to using you guys again next year."
- Westernport Basketball Club (Melbourne)
"I would like to pass on my thanks for organising Christine to host our Trivia Night. She did an excellent job and ensured that all present had a wonderful time. I have received a great deal of positive feedback from attendees."
- Bentley's MRI (Sydney)
"The Trivia night was a great success. We had 140 people and they were laughing all night. An excellent way to have people to relax and communicate with each other. The host was entertaining and managed the large crowd very well. Highly recommended for all large groups."
- Dept Primary Industries (Sydney)
"Our trivia night was fantastic, everyone had a great time and I was quite surprised how competitive everyone got. Say a big thankyou to Craig as the event went seamless. Everyone loved it and I think we have even converted quite a few non trivia people into fans!"
- Energex (Brisbane)
"The evening was terrific. We had so much fun and the night flew by. My friends raved about the party afterwards and are still talking about it! Rachael was fun and enthusiastic. She was a pleasure to deal with throughout."
- Lauren (Sydney birthday party)
"Just wanted to email to say a big thanks for the trivia night we had last night. We had a wonderful time and we really liked our trivia host Rachael who received many compliments from the team. Rachael was accommodating, flexible and entertaining. If we were to hold a trivia event again in the future, we will definitely be requesting her again."
- Caroline (Sydney consulting firm)
"From the chatter I have been hearing for the kitchen it seems everyone had a great time. I believe there are also a few sore heads this morning too! Thanks so much for doing a fantastic job. We wanted something casual yet a structured and that is exactly what you did!"
- Chelsea
>